State-of-the-Art Tutoring
English as a Second Language
(Beginner to Intermediate)
Hit the Books CONSTANTLY!
"All of life is a constant education." – Eleanor Roosevelt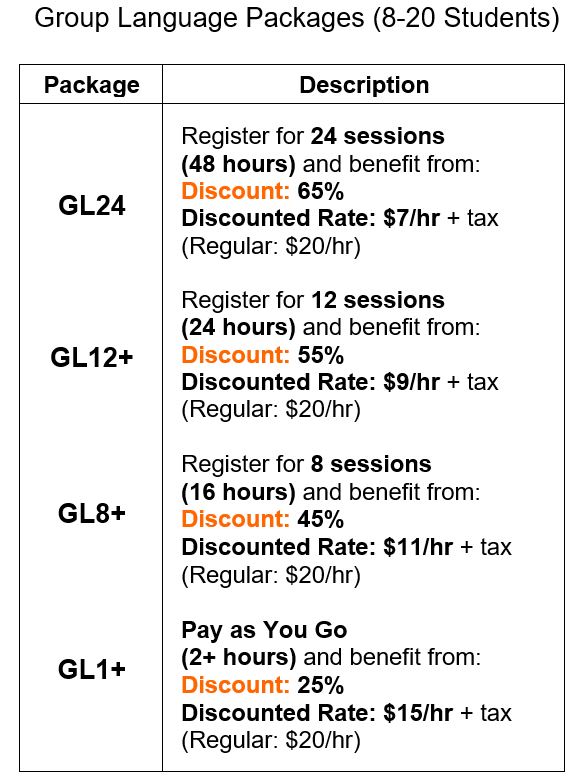 Description
Second-language English tutoring and group classes, taught by a native English speaker with extensive tutoring experience and a strong academic background.
1-to-1 Tutoring:
Flexible, focused, fantastic! Take advantage of a 15-30% discount for your first session. Read about your potential tutors below and contact us to book your first session now!
When you are completely satisfied with your first session, you can register for a study package. Read more about our 1-to-1 study packages: what they are and how they work.
Make Your Own Group:
Available for mini-groups and groups. Contact us with your group members' availability and contact information to get started!
Mini-Group (3-7 students):

Get together and save more! As with our 1-to-1 tutoring, start with a discounted 1st session. After, you can register for one of our low-cost Mini-Group Study Packages.

Group (8-20 students):

Make a group and save even more! See our Group Study Packages here.
Other Languages:
• French (FSL Tutoring and Group Classes)
• Spanish
Potential Tutors:
-
Kirsten
Kirsten holds an M.A. in English Literature from Brock University and a B.A. in English and Creative Writing from Concordia. She is highly experienced in teaching different related courses in the field, and specializes in preparing students for language proficiency exams such as the EETC, IELTS, and TOEFL and the Verbal sections of the GMAT and GRE. In addition, she teaches many topics in English writing, grammar, and expression to high school and university students. Hit the Books believes you will have a great experience with her!
Book a session with Kirsten now!
Contact us with your course material and availability. About Trial Sessions / Study Packages