State-of-the-Art Tutoring
French as a Second Language
(Beginner to Intermediate)
Hit the Books CONSTANTLY!
"All of life is a constant education." – Eleanor Roosevelt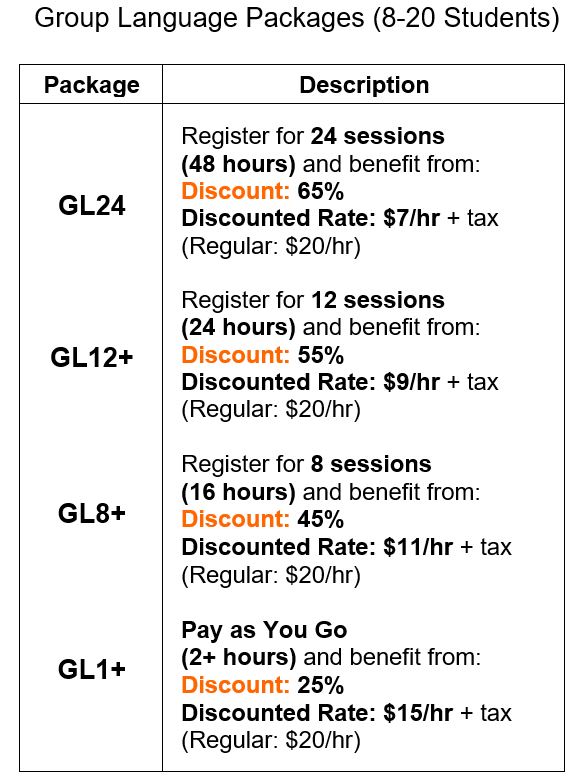 Description
Second-language French tutoring and group classes, taught by a native French speaker with extensive tutoring experience and a strong academic background.
Current FSL Group (8-20 Students):
Start Date: June 17, 2019
Schedule: Mondays and Wednesdays, 6-8 PM
How To Be Shortlisted for Our Classes:
• Join us: Click "Join" in the top-right corner of our website
• Email info@hitthebooks.ca with your availability to book your free placement test
Classes will be closed when they reach the maximum number of students, so registration is on a first-come, first-served basis!
FREE Placement Test:
This test will assess your vocabulary and understanding so we can determine which level is right for you. Depending on your level, you may be shortlisted for the current Group of 8-20 students or a Mini-Group of 3-7. We may have special promotions at certain times as well as discounts for Hit the Books Members.
Benefits of our Intensive Language Classes:
• Interactive Classes with a syllabus tailored to your level!
• The Chance to Advance—pass the end-of-term exam and receive a certificate allowing you to move up a level!
• Games and Activities: Enjoy French songs, videos, and skits!
• Integrated Conversation Practice: Practice what you learned!
• Boost your French conversation skills, vocabulary and comprehension!
1-to-1 Tutoring:
Flexible, focused, fantastic! Take advantage of a 15-30% discount for your first session. Read about your potential tutors below and contact us to book your first session now!
When you are completely satisfied with your first session, you can register for a study package. Read more about our 1-to-1 study packages: what they are and how they work.
Make Your Own Group:
Available for mini-groups and groups. Contact us with your group members' availability and contact information to get started!
Other Languages:
• English (ESL Tutoring and Group Classes)
• Spanish
Potential Tutors: