State-of-the-Art Tutoring
Study Packages: Group
8-20 Student Study Packages (University, CEGEP):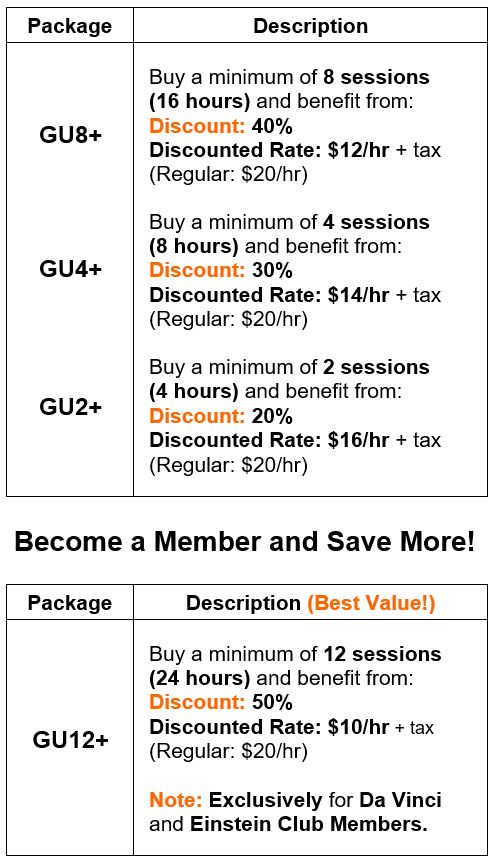 Group Tutoring for Basic University Courses (e.g. 100- and most 200-level courses at McGill or Concordia, their equivalent in other universities, and all CEGEP courses)
Make Your Own Group
Are you and your classmates struggling with the same course? Form a group (8-20 students) and take advantage of MASSIVE savings! For groups of 3-7 students, please see our Mini-Group rates.
>> For your first session, take advantage of a discounted rate (up to a 30% discount) without any commitment to a study package.
>> Sign up for one NOW in 3 simple steps: 1) Search for your course at the top left. 2) Read about your potential tutor. 3) Contact Hit the Books, making sure to include the availability and contact information of all students.
Bring a Friend and Get a Free Session!
>> As part of our Bring a Friend program, you can benefit from special savings for bringing other students! Bring 8 or more group members and receive your first session free. You can also split the savings among your group.
Loved Your First Session? Register and Enjoy the Advantages!
>> When you are completely satisfied with your first session, you have the choice of registering for a range of study packages. Consider your tutor's feedback from your first session and choose the one that is best for your needs. Update us about your availability and desired schedule (e.g. one session per week) so that we can book you according to your preferences, depending on the availability of your tutor. Read more about the benefits of study packages!
>> Our 12-session packages are exclusively for HtB Members, who enjoy a range of advantages. Become a member and save more!
How to Register
After choosing your package, "Like" Hit the Books and send us a message on Facebook to get your promotional code! Make sure that your availability and schedule preferences are also updated. As soon as we receive your payment, we can book all of your following sessions. Have the peace of mind that comes with a settled schedule!
Hit the Course:
Join a Group for our special Weekly Review or Intensive Prep/Crash Course sessions! Read more below or see our Mini-Group rates (3-7 students).
Weekly Review:
Review your course material thoroughly in a group of 8-20 students. Available for select courses and/or upon request.
Pricing is based on the GU8+ rate, but special promotions may be available for early birds.
Intensive Prep/Crash Courses:
Our Hit the Course sessions are special events available for core courses to get you fully prepared for the midterms and finals.
Pricing is based on the GU4+ rate, but special promotions may be available for early birds.
Need more information? Please contact Hit the Books.